Living Room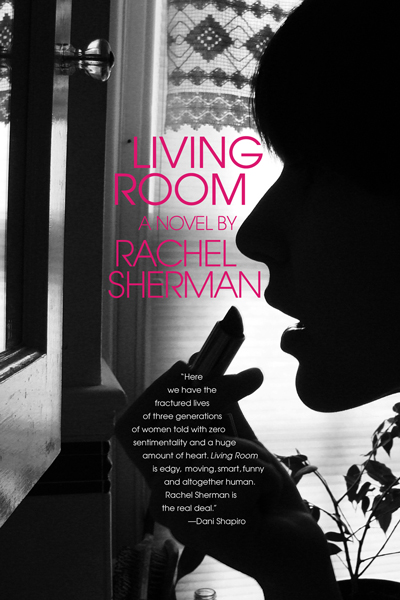 Living Room is a disarmingly direct portrait of a family in trouble. With the tone of a modern-day Jewish Ice Storm set in Long Island, imbued with Alice Munro's fascination with personal history, this is a deep exploration of the ripple effects of mental illness and a wry, wise take on suburban angst.
The novel's perspective carousels between three generations of women. Abby, a wise teenager, strives to keep her parents' dysfunction at arm's length while navigating the unfamiliar terrors of high school. Her mother, Livia, a housewife with unfulfilled career aspirations and an eating disorder, is consumed by a daily struggle to keep herself together while helplessly watching her family fall apart. And then there is Headie, the grandmother, whose oncoming senility brings vivid dreams and hallucinations of her younger life and whose main link to reality is a new computer with which she writes cryptic missives to her family.
With her highly praised debut story collection, The First Hurt, Rachel Sherman became known for her laser-sharp view of adolescence; here she takes it two generations further, bringing together a fascinating array of experiences with unusual frankness, humor, and wisdom.
Click here to buy the book
 To awkward 15-year-old Abby Schecter, the "living room" — that is, the area where she spends the most time experiencing memorable things — is an assemblage of tables and a couch beneath a canopy of trees behind her high school, where rebellious adolescents sneak smokes or bask in the reflection of cooler, more popular kids. To her mother, Livia, the living room is anywhere she can secretly binge on food away from the judgment of observers, most notably her husband, Jeffrey, a lawyer whose chief emotion toward her is "worry." And to Jeffrey's increasingly senile mother, Headie, the living room is the floor of her apartment, where she willingly spends most of her days reminiscing about her two dead husbands. "Headie began crawling a few weeks earlier. It suddenly occurred to her when she was down on the floor trying to pick up a piece of lint. Why get up only to sit back down? She wondered why she had never thought of this before." With perfect pacing, Sherman rotates the action among Abby, her mother and her grandmother, emphasizing the loneliness and secrecy that pervades three generations of women, as well as the fear that a revelation of secrets will make their spaces more cramped and uncomfortable, less suitable for living.
-Cameron Martin, The New York Times Book Review

The opening lines of my autobiography will include the phrase, "Endless shame and eternal guilt." But then it wouldn't just about me, it would be about every modern Jewish woman living in America. Rachel Sherman's new novel, Living Room, is just that: a book about every jealous, self-conscious, guilt-ridden Jewish broad and her mother and grandmother.
Written from the perspectives of three generations of Jewish women, the narrative shifts from Abby, a rebellious teen who is still growing into herself (and ever thankful for the benefits of facial waxing), to her mother, Livia, a former bombshell-come-housewife-come-aspiring interior decorator who can't help but watch her vanity destroy herself and her family. Finally there's Headie, the grandmother/mother-in-law with a juicy secret. Headie's  just discovered the Internet, and for some reason, prefers the view from her kitchen floor.
From the same stock as writers like Lorrie Moore and Amy Hempel, Sherman's characters thrive under her incredibly particular, telescopic descriptions of the fucked-up human condition. Strange little moments sparkle with humor (Headie's all-caps email to her granddaughter, pleading in, so few words, to be spared the decoy duck she is making in tech class), and others are so humane, they break your heart. But proceed with caution, Jewish sisters, for reading Living Room is like watching your past and future flash before your depressed little eyes!
-Molly Auerbach, The Faster Times
(4 out of 5 stars) Multigenerational female-centric novels often involve bonding over ethnically specific formulas, or the shedding of copious, cleansing tears when a long-buried family secret comes to light. Not so Rachel Sherman's Living Room. Mining territory she explored in her 2006 debut, a short-story collection called The First Hurt, Sherman turns her unflinching, unsentimental eye once again on deepest suburbia, where personal history festers rather than heals. Here we meet teenage Anna, tackling adolescent humiliations under the tutelage of a new bad-girl best friend. Anna's mother, Livia, narcissistic and profoundly depressed, fantasizes about being a successful interior designer and develops an unhealthy attachment to the first client she manages to land. And twice-widowed Headie, Livia's mother-in-law and Anna's grandmother, crawls about her empty home (it's easier than standing up) and mulls over the expanse of life behind her in occasionally graphic sexual detail.
The entertaining plot hums along, its heavier moments tempered with plenty of dark humor and incisive language; but it's the intimate character sketches that truly resonate. Point of view rotates among the three women, who share a fascination with the treacheries of the body. Anna, excited and a bit overwhelmed by her awakening sexuality, contemplates the acne on her au pair's face and the unwelcome hair on her own. Livia rues the inevitable softening as she slouches toward middle age, stuffing her face with junk food to fill the void she feels inside. Even Headie, barely clinging to the land of the living, wishes that she'd taken care of her feet, which she imagines were once her most perfect part. These inner monologues would be mortifying if bared in real life, but in Sherman's skilled hands, they render the characters sympathetic, if still disturbing.
—Carolyn Juris, Time Out New York
Sherman's riveting debut novel (after the collection The First Hurt) examines the dreams and disappointments of teenager Abby; her mother, Livia; and Abby's grandmother, twice-widowed Headie. Each of the women harbors a secret none of the others suspect: Abby drowns her crippling insecurity in alcohol; Livia has an eating disorder; and Headie's encroaching senility obscures a secret about her son, Jeffrey. Each, caught up in her own secret, neglects to notice the damage her preoccupation causes others. Vividly drawn secondary characters expand the story's breadth—Abby's bad-news friend Jenna; Jorgen, a Swedish au pair whose bad judgment nearly kills Abby; Simone, a lesbian psychiatrist Livia is attracted to for reasons she isn't quite sure of; and Jeffrey, who acts as a narrative linchpin. Unsentimental yet deeply felt, this tale examines what bubbles under the surface of a supposedly happy Long Island family. (Oct.)
—Publisher's Weekly
"A compelling and unsentimental novel about the loneliness that exists just below the surface of a family. Sherman skillfully and movingly renders the inner lives of three generations of women as they try—or don't try—to reconcile the distance between their desires and their actual lives."
—Dana Spiotta, author of Eat the Document
"Here we have the fractured lives of three generations of women told with zero sentimentality and a huge amount of heart. Living Room is edgy, moving, smart, funny, and altogether human. Rachel Sherman is the real deal."
—Dani Shapiro, author of Inheritance
"Rachel Sherman's Long Island is a desolate place: lawns, indoor carpeting, a wet couch some high school kids dragged into the woods to smoke pot on. The au pair has acne and grandma can't seem to turn off the caps lock key. Sherman, incredibly, is in no hurry to leave this place. She tells it all. The result is a funny, scary, dirty, and, in the end, a very moving, generous book."
—Keith Gessen, author of All the Sad Young Literary Men
"Living Room is that rare book that actually concerns itself with how we live now. Rachel Sherman's lost Long Island women throb with life and she has the courage to look at these lives honestly, without pity but not without love."
—Joshua Furst, author of The Sabotage Café
The First Hurt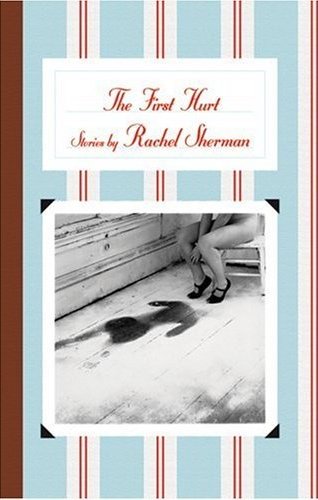 In this brilliantly original story collection, Rachel Sherman evokes the wonders and horrors of a young woman's life, from girl to teenager to adult, through crushes, sex, family, and the agonies and ecstasies of finding one's way. The First Hurt heralds the arrival of a singularly fresh and remarkably assured new voice.
Sherman's beautifully direct and deceptively simple prose produces accessible, shockingly real narratives that combine a disarming sexual edge with great sensitivity and humor. From a high-school girl's crush on her female teacher, to a family's serenity threatened by a sexy Danish au pair, to a girl's sexually outrageous soldier penpal, all the way to a young couple's horrifying yet life-affirming experience of learning to love their brain-injured newborn twins, this collection wends its way around the deepest of struggles with unusual frankness and wisdom.
Click here to buy the book
 "Rachel Sherman's stories are real wonders—brave, dangerous fictions full of heart and wit. She gets to the creepy, despairing, hilarious core of adolescence like few writers I've read. This is an amazing debut."
— Sam Lipsyte
"Rachel Sherman writes stories like splinters: they get under your skin and stay with you long after you've closed the book. These haunting stories are both wonderfully, deeply weird and unsettlingly familiar."
— Judy Budnitz
"In this excellent first collection, the human body is a promise of future happiness and a source of present embarrassment. The prose is another matter: polished, poised, sure of itself. It's a very grown-up way of recording the queasy intimacies, the frighteningly raw perceptions, and the almost cosmic desolation of a suburban adolescence."
— Benjamin Kunkel
"[Sherman's] pared-down yet oddly poetic prose has the delicacy—and the potential pain—of a dentist's glittering probe. Even though her touch is light, when she hits the nerve, you flinch. [These stories are] sharp, smart, and able to deftly limn the subtle, shifting outlines of alienation and sorrow."
— Yona Zeldis McDonough, Bookforum
"A startling debut collection…As in A. M. Homes's The Safety of Objects, the angst here is set in well-groomed places—developments, summer houses, manicured streets…Sherman's straightforward prose provides a contrast to her characters' unsettling behavior."
— Lara Tupper, The Believer (click here for full review)
"Laser-cut narratives . . . Full of great, quirky lines, the book would be a good read even if it did condescend to its flawed characters, but it doesn't. Instead, it takes the constraints of its context seriously, wondering not how its characters will escape—their bodies, their boring neighborhoods, their unreciprocated lust—but how they'll behave when they can't."
— Michael Miller, Time Out New York (click here for full review)
"If Sherman were a photographer, she'd be a paparazzo exposing people's most desperately concealed flaws. But unlike a cold soul with a zoom lens, the author renders her subjects clearly and empathetically, and her airy, poetic prose is a perfect match for the brittle environments she describes . . .The mood of the book is downcast, but Sherman's prose never becomes melodramatically glum or tedious . . . Her melodic style, rife with dream imagery, gives these stories a lift—her deceptively revealing dialogue and direct sentences lay her characters bare but never pummel them."
— Kirkus
"In a highly promising debut collection of stories, Sherman writes of alienated lower-end white suburbia in a manner that shifts perspectives with an effortlessness that mitigates her characters' sad stuckness . . . By the time one reaches the last story . . . one has given up any resistance to Sherman's grotesques and settled all the way in to a very uncomfortable place."
— Publishers Weekly
"[Sherman] seamlessly protrays the world of adolescent girls who, on the brink of sexual experience, find themselves surrounded by adults who cavort like teenagesrs. Sherman's writing is so refined; it is a pleasure to find that her characters are not…Anyone who can remember the stirrings caused by shoulders rubbing in homeroom, or the agonies of squandered teenage love with find a companion in The First Hurt."
— Caroline Seklir, The Brooklyn Rail
"Hilarious and disturbing . . . Sherman deals with sexuality on candid terms, depicting the fine line between what we want and what we know with precision. The simplicity of Sherman's prose allows the reader speedy entry into the painfully familiar world of adolescence and young adulthood. There are few fireworks here, but no less bang."
— Elizabeth Crane, Time Out Chicago
"Sherman's writing is sharp, hard, and honest; there's a fearlessness in her work, an I'm-not-afraid-to-say-this quality. Becasue she knows that most of us have thought the same but didn't have the guts to say it."
— Nina Maclaughlin, Boston Phoenix
"Rather than a mountain-steep line that stops abruptly in adolescence, the learning curve of the human body is gradual and endless. Each age offers its own set of embarrassments and obsessions; the characters in Rachel Sherman's debut short-story collection are no exception…Thankfully, these unsettling stories avoid florid descriptions and tidy resolutions. Like her characters' own self-assessment, Sherman's spare, detatched style yields a somewhat cold take on sexuality, reminiscent of A.M. Homes and Mary Gaitskill."
— Karla Starr, Seattle Weekly